Disney Paper Music boxes
Rigid paper board covered 128 gsm art paper , with 4 color Disney Design printing. Cardboard music boxes , different shaped , high quality workmanship, new design from Disney.
1. Disney Gift boxes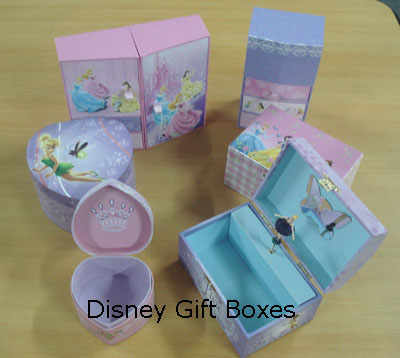 Material : 2 mm rigid paper board , 128 gsm art paper , small mirrors, metal part, metal lock, hidden magnets, music part
Shaped : heart-shaped disney music boxes, suitcase-shaped music boxes, square-shaped, etc
Size : we can produce the boxes based on your requirements. Any sizes are ok.
Printing : 4 color printing for outside , 1 color printing for inner side
Lamination : matte lamination for whole music boxes, inside and outside
Artwork : Designed by Disney, we can't produce these boxes for other clients.
Music : popular music, when you open the Disney music boxes, you can hear the music.
2. Cardboard Disney Music boxes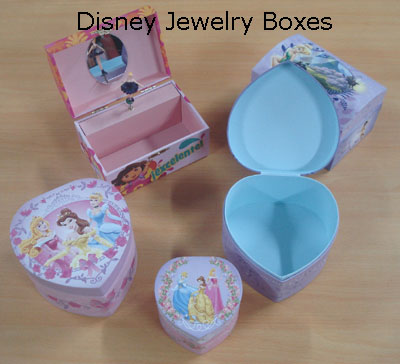 Material : 2 mm rigid paper board , 128 gsm printed art paper, matte lamination
Size : small boxes , small music boxes , small Disney jewelry boxes
Structure : see the picture, pop up music boxes, box with connected lid
Printing : Disney design artwork printing
Mirror : small mirror on the inside of the lid
Packing : 1 piece Disney music paper box into a polybag , 12 pieces Disney paper music boxes into a strong shipping carton.

Tel:0086 136 0091 3508
Email us to get a price quote
Email:sales@bagboxpackaging.com
Our Products

Paper boxes
Paper bags
Other packaging solutions