Home - Boxes - corrugated boxes - Beer boxes
Corrugated beer boxes : Custom beer bottles carrier - Printed beer packing boxes
Custom beer and wine bottles boxes
The 4 pack, 6 pack beer bottle carrier is a custom F flute corrugated printed box which is used to hold the 330ml beer bottles. BBP supplies and manufactures the custom 4 pack beer bottle carriers and 6 pack beer bottom carriers. With us, you can have a beer bottle carrier with the custom size and color printing.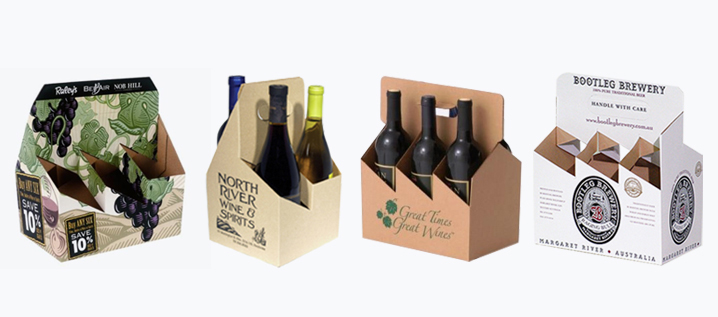 4 pack beer bottle carrier,Four Pack wine Bottle Carrier
six pack beer bottle carrier,6 Pack Wine Bottle Carrier
This is our whole new brand six pack beer bottle carrier with the finger holes. Besides the new handle structure, we also replace the traditional varnishing finish with the glossy laminating. These two features make the beer bottle carrier stronger and more durable.
Six Pack Beer Bottle Carrier
For the brewers and beer lovers, nothing is more intriguing than a creatively design beer bottle carrier. Among the cardboard beer carriers, six pack beer bottle carrier is the most common packaging. However, a creative beer carrier design needs intelligence, knowledge, and particularly the love and passion for beer. One of our packaging designer in the design department love beer so much. He creates his own beer carrier, quite interesting. Also due to his creative design, our beer bottle carrier are very sold very well to the Australia Brewery Companies.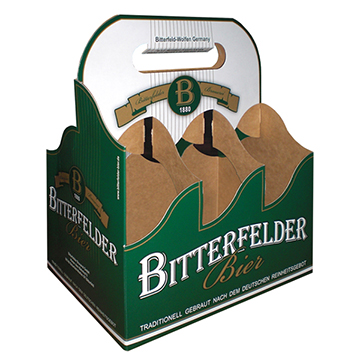 Cardboard Material for the Beer Bottle Carrier Box
Brewers are often complaining about the beer carrier strength they bought. It breaks here and there on the edge, making people very embarrassing when carrying it in the street, bar, store... The structure design is important. But another important thing is the cardboard material used. In our factory, we use the F flute corrugated board produced on our own corrugated board production line. It is only 0.08-1mm in thickness, consisting of 3 layers. The total grammage is around 500gsm. Besides the strength, the medium flue makes the beer carrier has very good cushioning property. If the glossy laminating is applied on the printing surface of the carrier, the beer carrier can never be broken easily on the edge.